NEA/DL Capt. RICHARD 'Dick' JOHN BOYENS
November 3, 1938 ~ February 10, 2018
Belated news has reached us with the passing of retired Northeast/Delta pilot Captain Richard John Boyens, age 79. Captain Boyens joined Northeast Airlines 05-02-1966 and retired with Delta Air Lines, based 030/ATL. Please see obituary and information below. Captain Boyens' obituary and guestbook may also be viewed online at http://www.asturner.com/obituaries/Richard-John-Boyens?obId=2959561
For those wishing to send a personal note to the family, whitepages notes the Boyens residence address as
1800 Clairmont Lk Unit 327 , Decatur GA 30033-4038 ... (404) 294-7945.
Thank you,
~ Carol for the PCN
RICHARD JOHN BOYENS
November 3, 1938 - February 10, 2018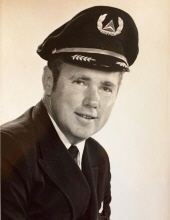 Obituary for Richard John Boyens

Richard John Boyens, 79, of Decatur, beloved husband, father and grandfather, passed away Saturday, February 10, 2018. Born in Brooklyn, NY, November 3, 1938, he was the son of the late Clarence and Esther Jacobsen Boyens. Richard learned to fly before the age of 16 at Marine Park Seaplane Base in Brooklyn and was flying before he could drive. He became an air traffic controller at Laguardia Airport when he was 20 and went on to be a commercial pilot for Pepsi Cola before finally joining NortheastAirlines which later merged with Delta. He retired as a captain from Delta after over 20 years. In addition to flying, Richard enjoyed golfing, tennis, bird watching, and spending time with his family.

Richard is survived by his wife of 58 years, Marguerite Coffrin Boyens; his daughter Bonnie Boyens Craft and her husband Ronald; his son Timothy Richard Boyens; and his daughter Jennifer Boyens Victor and her husband, William; grandchildren, Ethan Craft and Eliza Craft, and Julia Victor; and many more loving family and friends.

In addition to his parents, Richard was preceded in death by his brothers, Edward and Robert Boyens.
In lieu of flowers, donations may be made to Crossroads Hospice, https://crhcf.org/Donate/.
Feel free to leave the family your condolences via the guestbook provided.
"High Flight (An Airman's Ecstasy)"

Oh, I have slipped the surly bonds of earth
And danced the skies on laughter-silvered wings;
Sunward I've climbed and joined the tumbling mirth
Of sun-split clouds ­ and done a hundred things
You have not dreamed of; wheeled and soared and swung
High in the sun-lit silence. Hovering there
I've chased the shouting wind along, and flung
My eager craft through footless halls of air;
Up, up the long, delirious, burning blue
I've topped the wind-swept heights with easy grace,
Where never lark nor even eagle flew;
And while, with silent lifting mind I've trod
The high untrespassed sanctity of space,
Put out my hand, and touched the face of God.

John Gillespie Magee Jr. (1922-1941)

Memorial Contributions suggested to CROSSROADS HOSPICE, 1957 Lakeside Pkwy #500 , Tucker, GA 30084