We were just informed of the death in May 2018 of Bonnie McCullough widow of deceased DL Captain "Mac" McCullough.
During the period of DGW presidencies of Bob Schorr, Rollin Jackson and Freddy Miller, Bonnie was the reunion event planner for the reunions for a period of time.
She specialized in event planning, and as wife of well-known "Mac" McCullough, one of our senior pilots, she did a most fantastic job of reunion planning She started "After Reunion Events" which were well received. The activities were fantastic. She was well-known, well-liked and appreciated for her planning of these events.
OBITUARY
Bonnie C. McCullough
October 15, 1936

–

May 26, 2018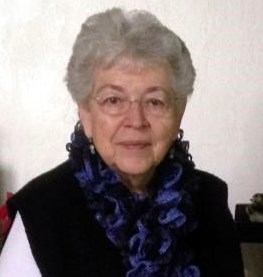 Play Tribute Movie
Bonnie Lou Clark McCullough age 81, died peacefully at Port Orange, FL Assisted Living on May 26, 2018 after a long struggle with Parkinson's. Bonnie was born October 15, 1936 the only daughter of Victor and Ruth Clark of South Bend, IN. She attended elementary school and High School in South Bend, IN. graduating in 1955. Her first job was with ATT as an operator in South Bend, IN. Living in the Miami area she met Captain Cecil G. "Mac" McCullough and they were married on Oct 15, 1977. In the late 70's, they moved to the Daytona Beach area. In the early 80s they built their retirement home in the Spruce Creek Fly-In. Mac retired from Delta and they both enjoyed flying and participating in the activities at the Fly-In. Bonnie was a member of the Museum of Arts and Science and very active in the American Business Women's Association. She was also the event planner for Delta Golden Wings planning many large gatherings all over the US. Bonnie is survived by her brother Nelson (Donna) Clark of Berne, IN., Son Keith (Kim) Corn of Port Orange, FL. Daughter Cindy Clark of Winter Park, FL. Special cousin Sharon (Robert) Brooks of Port Orange, FL. Grandchildren Dennis Jr, Brandon, Kenneth, Shianne, Bill, Elizabeth and Robbie; 10 Great Grandchildren, and many other family members. Bonnie was a member of All Saints Lutheran Church in Port Orange, FL. She was very active in the Children's Program providing supplies and her time for arts and crafts for Vacation Bible School or the afterschool program. Her creative talents were well known in making hand decorated greeting cards that were donated to the church's Relay for Life collection. She was also instrumental in creating the layout and display for a 400-piece Bethlehem Village depicting the Nativity every Christmas Season for 17 years. She was a very giving person to local charities and worked at the homeless shelter cooking and serving meals for the homeless. Bonnie was always willing to give of her time to assist anyone. Services entrusted to Volusia Memorial Park, Port Orange, FL. In lieu of flowers please consider at donation to: Halifax Hospice at https://eshop.halifaxhealth.org/foundation
or All Saints Lutheran Church, Port Orange, Fl at http://www.aslcpo.org/donate.html
-----------------------------------
REST IN PEACE..
CPT Cecil Gordon "Mac" McCullough
(Delta hire date 01-09-1946)
Birth : 15 Mar 1920
Collinsville, Tulsa County, Oklahoma, USA
Death : 13 Jul 2009 (aged 89)
Temple, Bell County, Texas, USA
Burial : Dallas-Fort Worth National Cemetery , Dallas TX
Graveside services for retired Capt. Cecil Gordon "Mac" McCullough, 89, of Temple will be 1:30 p.m. Monday in Dallas-Fort Worth National Cemetery in Dallas.
Mr. McCullough died Monday, July 13, in a Temple nursing home.
He was born on March 15, 1920, to Amer Archibald McCullough and Adda May Karr McCullough in Collinsville, Okla. He was raised in Collinsville and attended Northeastern Oklahoma Junior College in Miami, Okla. He was a veteran of World War II, serving in the China-India-Burma Theater of operations with the "Flying Tigers" in the 14th Air Force. Among his many decorations was the Bronze Star. He later flew as a pilot for Delta Air Lines for 34 years. He was a more than 50-year member of Collinsville Masonic Lodge................
Survivors include five sons, Gordon Mason McCullough of Irving, Jimmy Allen McCullough of Mount Shasta, Calif., Howard Lee McCullough of Camas, Wash., Larry Wayne McCullough of Clemson, S.C., and David Neal McCullough of Tyron, N.C.; 12 grandchildren; and eight great-grandchildren.